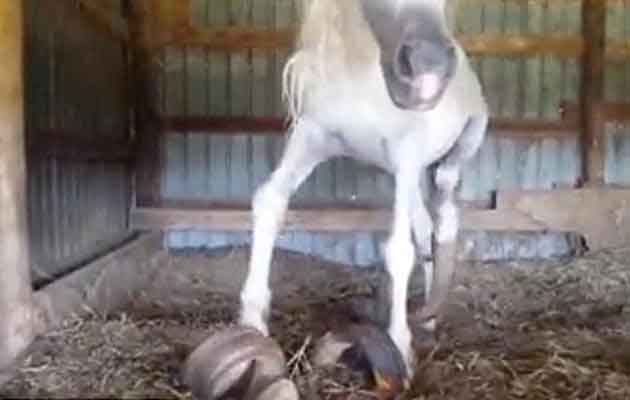 I've worked in horse rescue in the past and never seen a horse with 3ft long hooves, just think, that's the size of a child. I can't image what they must have gone through.
These poor horses were found at a farm in the US and rescuers believe they'd been left in stables for 15 yrs. During that time that time it appeared that they might not have had farrier or veterinary care.
These horses were discovered standing in 3 to 4ft piles of manure in stables at a farm in Washington County, Oregon on 21st august 2015.
One miniature pony mare had to be put down at the farm as she had ruptured ligaments which cause irreparable fetlock dislocation.
There were another 2 horses, an 18 year old stallion called Quest and  another miniature called Rio who could barely move as their hooves had grown so long.  Quest and Rio's teeth were also a mess due to  severe dental neglect.
Caroline Robertson of Days End Farm Horse Rescue (DEFHR) told local press "It's the worst case we've seen in our 26-year history and they could barely move without being at risk of getting tangled in their own hooves."
DEFHR, which provides rehabilitation and care for horses, aided the rescue of the three horses before taking them into its care. DEFHR started in 1989 and has gone from a sheltering a few horses on a nonprofit basis to a large well respected national equine rescue and rehabilitation looking after up to 150 horses annually. The horses come through animal protection agencies from across Maryland and surrounding states.
Once they've been rehabilitated, the horses are evaluated and provided with training to prepare them for adoption. DEFHR utilizes principles of natural horsemanship to help each horse realize its full potential as an equine partner and facilitate the move to a new home.
For more information on Days End Farm Horse Rescue visit: www.defhr.org
Source: Horses found with 3ft long hooves

All domesticated equines require proper care of their feet and it is crucial to their overall health and well-being. It's important to have a qualified farrier trim ( and re-shoe if necessary) the horses hooves every four to six weeks and to make sure there 's nothing amiss going on.