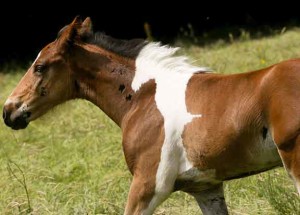 There's something wonderful about seeing a baby animal being born, such sweet innocence. Horses can be born with some beautiful markings, but I doubt anything will match this extraordinary foal for a long time to come.  When we read about this foal that was born at Fyling Hall Riding School at Robin Hood's Bay, North Yorkshire in England we were smitten and just had to find oout more!
He has quite spectacular markings as you can see.. Running from his mane, then down his shoulder and neck, is a white shadow that looks exactly like another horse that has hitched a ride on his back. While it isn't unusual for foals to been born with  irregular patches, it's certainly unique for the pattern to resemble something as recognizable as the horse itself. He even has a white heart-shaped spot on his bottom as well.
Obviously his owners were thrilled and his story quickly made it into the national news. Because of his unusual markings they decided to name him "Da Vinci", Vinny for short. His owners were so blown away by his markings that they decided to name him "Da Vinci," or Vinny for short. This way, he will forever be known for the beautiful work of art he brought into the world.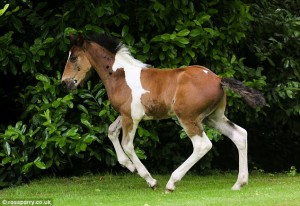 Wendy Bulmer, who runs the riding school, said: 'I bought his mother at a sale and didn't know she was in foal [pregnant] so that was a bit of a surprise. I wasn't very happy at first but he is so friendly and the kids love him"
According to Wendy Bulmer, who is also an instructor at Fyling Hall Riding School, Da Vinci has also provided the riding school with their first opportunity to expose its children to a newborn foal. Since the day of his day of birth they've been able to play with Da Vinci, and he's turning into a friendly and sociable young horse.
From Wikipedia- "In British English piebald (black and white) and skewbald (white and any colour other than black) are together known as coloured. In North American English, the term for this colouring pattern is pinto."
Photo Credit: rossparry.co.uk
(h/t Daily Mail)